Stainless Steel Dome Nuts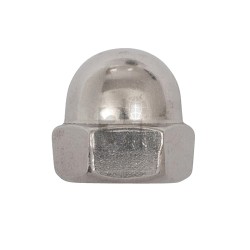 Product No. # AI 026P914
Stainless Steel Dome Nuts
Prduct Category :Stainless Steel Fasteners Description & Documents Made Inquiry for special size on configuration.
Stainless Steel Dome Nuts
Stainless Steel Dome Nuts
Specification:-
BS 4183 BS 57
BS 3643 BS 93
IS 1367 / 1366
Stainless Steel Dome Nuts Material:-
In case of Turned Machine Screw:
Free Cutting Stainless Steel IS 319 Type (I) or
Free Cutting Stainless Steel As Per BS 249 Type (I) or
High Grade Free Cutting Stainless Steel
Any special Stainless Steel material composition as per customer's requirement
 In case of Cold Forged Machine Screw:
Stainless Steel as per IS 4413 or
BS 2874/Cz108 or
High grade mild steel
Finish and Coating Available in Fasteners:-
Natural, Nickel Plated, Tin Plated, Natural Brass or any coating as per customer specification.
Threads:-
ISO Metric (MM Threads)
BA Threads
BSW Threads (Inches)
UNC, UNF Threads
Any threads as per custom design.
Fasteners Length / Size:
As per specifications or custom designs.
Threads of Brass Dome Nuts :-
Metric, NPT, BSP, BSPT, NPTF, UNEF, UNS, UNF, BSF, UNC, NPS, NPSM, BSW
Sizes of Stainless Steel Dome Nuts:-
3mm 4mm 5mm 6mm 8mm 10mm 12mm 16mm 18mm 20mm 24mm 25mm 26mm 28mm 30mm 32mm 33mm 40mm 50mm M3 M4 M5 M6 M8 m10 m12 m16 M18 M20 M24 M25 M26 M28 M30 M32 M40 M50 1/8 5/32 3/16 1/4 5/16 3/8 1/2 7/8 3/4 1 11/4 11/2 2 2/12
If you need special size and configuration or if you would like to place an order for Stainless Steel Dome Nuts or Stainless Steel Fasteners products with plating please Contact Us