Red Brass Elbow 45 Degree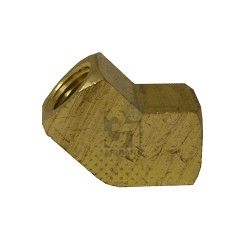 Product No. # AI 014P611
Red Brass Elbow 45 Degree
Prduct Category :Brass Pipe Fittings Description & Documents Made Inquiry for special size on configuration.
Red Brass Elbow 45 Degree
Red Brass Elbow 45 Degree
Brass Pipe Fitting Range of Brass Hex Reducer, Brass Adaptor, Brass Hex Plug, Brass Plug, Brass Nipple, Hex Reducer Coupling, Hex Reducing Nipple, Hex Coupling, FPT to FPT.
Size:-
1/8″ , 1/4″, 3/8″ , 1/2″ , 3/4″ , 1″ , 1 1/4″ , 1 1/2″ , 2″
Threads:–
ISO Metric (M), (UTS), (UNC), (NPT), (BSP), (BSPT), (BSW).
Specification:-
Durable for high temperature applications
Material Grades: -CuZn39Pb3, CW614N, CW602N, CZ132, C35330, SS-5170
Material:- Brass, Any special brass material compositions as per customer's requirement
Surface:- Nickel plated, or Chrome plated
Features:–
Quality pipe fitting
Made of cast red brass
Easy to use
Capabilities:-
Threads manufactured to highest quality standards and tolerances
Minimal vibration resistance
Easy to install
Plating:- In Micron (Nickel, Zinc, Tin, Chrome, and Brass & as per requirement…)
Our Brass Fittings Part, that are available in various sizes and specifications. Made using the best quality brass, these exhibit corrosion resistance, high tensile strength and long life. Brass fittings Parts are available in different sizes and dimensions in order to requirements of the clients.