PPR Fittings Brass Inserts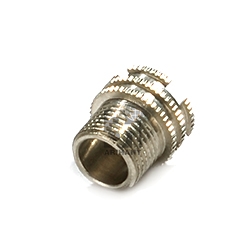 Product No. # AI 08P242
PPR Fittings Brass Inserts
Prduct Category :Brass Inserts Description & Documents Made Inquiry for special size on configuration.
PPR Fittings Brass Inserts
PPR Fittings Brass Inserts
Material:-
Free cutting brass IS 319 type (1)
Free cutting brass as per BS 249 type (1)
High grade free cutting brass
Any Special Brass Material Composition as per customer's requirement.
PPR Fittings Brass Inserts   Applications:-
We manufacture CPVC Fittings, PPR Fittings and Brass Moulding Inserts to be used in various industrial applications. From plastic industry to sanitary products manufacturing, our products in this category form the backbone of these types of industries. Automotive industries, electronic goods manufacturing and electrical applications are also facilitated by the products we manufacture.
Standards and Specifications:-
Industrial standards are combined with customer specifications to manufacture wonderful products in the category of moulding inserts and CPVC fittings. We appreciate the participation of our customers in specifying the product requirements. You can download our products catalogue to learn more about them in various categories.
Finishing and Plating:-
Natural, Nickle Platted, Chrome Platted, Tin Plated or any coating as per customer specifications.
We are manufacturer of threaded inserts for plastics. We involve an entire line of brass inserts for all method of fitting, as well as: heat, thermal, ultrasonic, and press-in and mold-in. Any type of Brass Inserts can be developed and supplied exactly as per customer's specification..