Bronze Nuts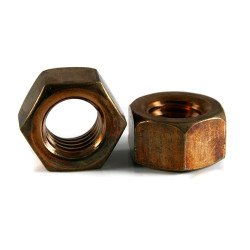 Product No. # AI 021P800
Bronze Nuts
Prduct Category :Bronze Fasteners Description & Documents Made Inquiry for special size on configuration.
Bronze Nuts
Bronze Nuts
Bronze Nuts are under Bronze Fasteners category products, We are manufacturing and exporting all kinds of Bronze Nuts as per customer's specifications and requirement.
We manufacture and export Bronze Nuts like Bronze Heavy Nuts, Hex Bronze Nuts, Bronze Pm Nuts, Bronze Wing Nuts products.
Available Nuts:
Flat Bronze Fender Washers
Flat Bronze Washers
Hex Bronze Nuts
Bronze Lock Washers
Bronze Pm Nuts
Bronze Wing Nuts
Available Sizes:
1/4-20, 5/16-18, 5/16-18, 3/8-16, 3/8-16, 1/2-13, 1/2-13, 5/8-11, 3/4-10, 7/8-9, 1″-8
If you need special size and configuration or if you would like to place an order for Bronze Nuts or Bronze Fasteners products with plating please Contact Us