Brass Threaded Inserts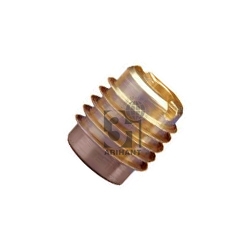 Product No. # AI 08P247
Brass Threaded Inserts
Prduct Category :Brass Inserts Description & Documents Made Inquiry for special size on configuration.
Brass Threaded Inserts
Brass Threaded Inserts
Material:
Generally Free Machine Grade of CuZn37Pb3 equivalent to BS 2874 is used to manufacture various brass threaded inserts in form of round, Hexagon, Square etc
Other grades which are followed as per custom requirements are CZ 121, CZ 131, C3604, CDA 360, and DTD 627 etc
Key Features:
 Thread Size Starts from M1.6 to M50. BA, BSW, BSP, BSPT, BSF & American Threads like UNC, UNF, UNEF, and NPT are also available as per custom requirements
 Straight, Diamond, opposite diagonal, Knife thread etc. are the knurling options available to give solid gripping to Molding applications
Inserts available as per Class 2B ANSI/ASME B1.1 & Confirms to ISO metric 6H Thread Standards
Inserts with collar series provides Options to use Flange to make Electric Contact
Ultrasonic series with Opposing Diagonal Knurls provide excellent Torque Resistance Vertical Undercuts in Tri Series Provides Superior Tensile Strength
Blind thread or closed bottom Inserts prevents plastic from entering the bottom of the insert
Finish:
  Generally Brass Inserts comes with the Natural, Nickel & Tin Finish. But Surface Finishes such as Chromium, Silver, Gold, etc. can be done as per customer's requirement.