Brass Pool Cover Anchors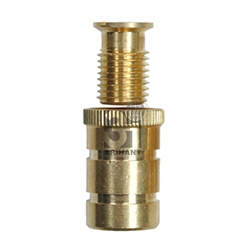 Product No. # AI 02P101
Brass Pool Cover Anchors
Prduct Category :Brass Anchors Description & Documents Made Inquiry for special size on configuration.
Brass Pool Cover Anchors
Brass Pool Cover Anchors
Brass Pool Cover Anchor Specification
Internal Tapering Module Which Enables The Anchor To Expand And To Auto Locks The Suspension Rod And Gets Into Position. It Has Larger Bearing Area and Functions Also As A Socket, Suitable For Solid Brick, Light Concrete Hollow Core Concrete Panels and Timber.
Brass Pool cover anchor Are Also Useful With Light Weight Rail Fixings. The Body Is Knurled For Improved Performance Fixture Can Be Removed And Replaced.
Thread Size
M4, M5, M6, M7, M8, M10, M12, M14, M16
Outside (Mm) 5 6.5 8 8 10 12 15 18 20
Full Length (Mm)15 15 20 23 28 28 32 38 43 50
Safe Static Load Tension (KN) 0.02 0.87 1.10 1.30 1.40 2.20 2.30 2.50 2.85
Material
Free Cutting Brass IS 319 Types (I)
Free Cutting Brass as per BS 249 Types (I)
High Grade Free Cutting Brass.
Any Special Brass Material Composition as per customer's requirement
Installation
Drill a Hole as Per the External Diameter of Brass Spring Anchor
Hammer the Anchor into the Hole
Take a Required Bolt for Screwing
Fix It with Suitable Spanner
Brass Pool cover anchor Process
Embossed Surface With Two Strips And Four Segments
Corrosion Resistant And Hence Can Be Used In All Environments
Embossed Surface Provides Extra Grip
Inside Conical Shape Ensures Equal Expansion Of Segments While Screwing
Application
Brass Pool cover anchor Are Multifaceted Components And Are Able To Work Any Surface Like Brick, Concrete, Metallic Or Timber Based Surfaces.