Brass OD Comp to Mips 90 Degree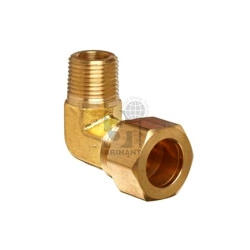 Product No. # AI 011P396
Brass OD Comp to Mips 90 Degree
Prduct Category :Brass Compression Fittings Description & Documents Made Inquiry for special size on configuration.
Brass OD Comp to Mips 90 Degree
Brass OD Comp to Mips 90 Degree
Compression Fittings Range from 45 Degree & 90 Degree Elbows, Couplings, Unions, Elbow Tube To FPT, Elbow Tube to MPT, Elbow 45° Tube to MPT.
Specification:
Material:- Brass, Any special brass material compositions as per customer's requirement
Material Grades: -CuZn39Pb3, CW614N, CW602N, CZ132, C35330, SS-5170
Size:- 1/8″ OD x 1/8″ Mips to 5/8″ OD x 1/2″ Mips
Surface:- Nickel plated, or Chrome plated
Features:–
Rigid structure
Durability
Resistant to corrosion
Capabilities:
Bar capacity: from 2 3/8 inches diameter down to 3/16 diameter
Tolerances of up to ± 0.0001
Run size: specializing in low to medium volume runs from 500 to 20,000 pieces, but we have the capability for even larger runs
Parts can be produced with features such as threads, milled flats, knurls, cross holes, and trepan
Finishing:- Polished, Diamond Knurling, Straight Knurling
Plating:- In Micron (Nickel, Zinc, Tin, Chrome, and Brass & as per requirement…)
Threads:–
ISO Metric (M), (UTS), (UNC), (UNEF), (NPT), (BSP), (BSPT), (BSW), (BSF), (BA)
The Brass Compression Fittings, Brass Pipe Fittings, and Brass Flare Fittings offered by Arihant International are fabricated using quality raw  aterial. Designed using advanced technology, our range is known for its dimensional accuracy, high strength and better durability standards. These fittings are standard compliant and provided by Arihant International at industry leading prices.
Our Brass Fittings Part, that are available in various sizes and specifications. Made using the best quality brass, these exhibit corrosion resistance, high tensile strength and long life. Brass fittings Parts are available in different sizes and dimensions in order to requirements of the clients.