Brass Lock Nuts for Cable Glands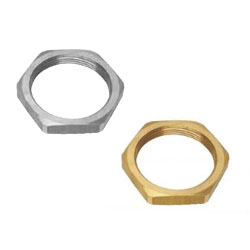 Product No. # AI 03P110
Brass Lock Nuts for Cable Glands
Prduct Category :Brass Cable Glands & Accessories Description & Documents Made Inquiry for special size on configuration.
Brass Lock Nuts for Cable Glands
Brass Lock Nuts for Cable Glands
Application: Brass Lock nuts are traditional components used in fastening glands to the gland plate & as they are identical material to the gland. Corrosion effects are minimal.
Function: Standard With ISO metric thread. To secure only brass cable glands to a gland plate
EMC With ISO metric thread with cutting edges to cut through paint layers or powder coatings, for optimum contact.
Material Brass BS 2874, CZ121, CuZn39Pb3, Steel.
Thread INCH BSP BSPT NPT ET NPT PG
Plating Chrome (CP) Nickel (NP) Tin (TP)
Brass lock nuts are made from Hollow 360 Brass rods by machining or cold forging. We offer metric lock nuts and BSP threaded Lock nuts for plumbing fittings and pipe fittings. we also offer flanged lock nuts back nut for pipe fittings. We also offer cast Brass and Stainless Steel lock nuts.
We offer Brass metric lock nuts PG threaded Nickel plated lock nuts for conduit fittings and Brass cable glands. These Lock nuts threaded metric nuts are Nickel plated and used on electrical conduit fittings/flexible conduit assemblies and with metric cable glands.
Threads:-
M16 M20 M25 M32 M40 M50 M63 M75
PG threaded Lock nuts:-
PG 7 PG 9 PG 11 PG 13.5 PG 16 PG 21 PG 29 PG 36 PG 42