Brass Grease Nipple 90 Degree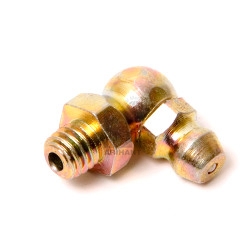 Product No. # AI 015P618
Brass Grease Nipple 90 Degree
Prduct Category :Brass Grease Nipples Description & Documents Made Inquiry for special size on configuration.
Brass Grease Nipple 90 Degree
Brass Grease Nipple 90 Degree
Types of  Fittings :
Straight, 45° Bent, 90° Bent, Pin Type, Button Head Type
Material:-
brass:- CuZn39 Pb3 (CW614N)
steel:- 1.0718 (11SMnPb30+C) SAE 12L13
stainless steel:- 1.4305 ~ ASTM303 (SST303);1.4401, 1.4404 ~ ASTM316, 316L (SST316L)
Any special brass material compositions as per customer's requirment.
Threads:-
ISO metric, MM, PG, BSW, BSP, BSB, BSF, BA, NPT, NPTF, UNC, UNF, UNEF etc. Any threads as per customer's design.
Advantages:-
hydraulic-type-, ball-type-, flush-type-, bayonet-, and button-head nipples
standard versions made of zinc-plated steel,
stainless steel, or brass
case-hardened according to DIN
international product standards(e. g. DIN, ISO, SAE, BS, JIS)
individual, custom-designed solutions
individual packaging according to customers requirements
Finish & Coating :
Brass Natural, Electro Tinned, Nickel, Chrome, Led, Silver, Gold, Zinc Blue etc.