Brass Earth Tag for Cable Glands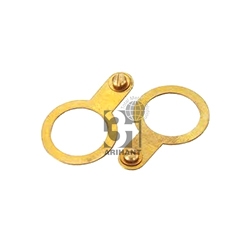 Product No. # AI 03P112
Brass Earth Tag for Cable Glands
Prduct Category :Brass Cable Glands & Accessories Description & Documents Made Inquiry for special size on configuration.
Brass Earth Tag for Cable Glands
Brass Earth Tag for Cable Glands
Brass Earth Tags are made from very high quality raw material which ensures hassle free work performance at its user end. These Brass Earth Tags are widely finds its applications in various industrial sectors.
Application Brass Earth Tags Installed between the gland entry & equipment, provides an earth bond connection
Function Produces an earth bond connection for electrical continuity
Material Brass BS 2870 CZ123 lead
Type Brass Earth Tags With Brass Screws & Washers, Plain Hole
Plating Nickel (NP) Chrome (CP) Zinc (ZP) Tin (TP)
Material Brass
Shape Brass Earth Tags Available in many shapes & thickness in all sizes, can be coated or plated to customers specification as mentioned.
We are offering wide range of Cable Gland Accessories. We are offering our range of Cable Gland Accessories which is extremely durable and tensile and therefore is ready to perform in almost all conditions. These Cable Gland Accessories are available at industrial leading price.