Brass Cross Knurled Inserts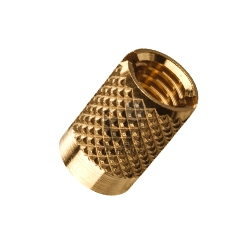 Product No. # AI 08P240
Brass Cross Knurled Inserts
Prduct Category :Brass Inserts Description & Documents Made Inquiry for special size on configuration.
Brass Cross Knurled Inserts
Brass Cross Knurled Inserts
Brass Knurled Inserts Features:
 High tolerance
Threads as per international go & not go standards
Deep groove for maximum pull out resistance
Brass Knurled Inserts Material:
Free cutting brass IS 319 type (1)
Free cutting brass as per BS 249 type (1)
High grade free cutting brass
Any Special Brass Material Composition as per customer's requirement.
Brass Inserts Threads:
ISO Metric (MM Threads)
BA Threads
BSW Threads (Inches)
UNC, UNF Threads
Any threads as per specifications.
Typical Application:
Instrumentation, Telecommunications, Electrical Accessories, Electrical junction boxes and other Plastic Cases Assembly.
Length/size:
Begins from M2 or equivalent threads and up to any size as per Custom Designs and requirements.
Finishing and Plating:
Natural, Nickle Platted, Chrome Platted, Tin Plated or any coating as per customer specifications.
We are manufacturer of threaded inserts for plastics. We involve an entire line of brass inserts for all method of fitting, as well as: heat, thermal, ultrasonic, and press-in and mold-in. Any type of Brass Inserts can be developed and supplied exactly as per customer's specification..