Brass Cheese head Screw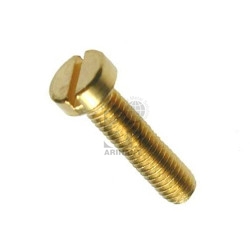 Product No. # AI 09P220
Brass Cheese head Screw
Prduct Category :Brass Fasteners Description & Documents Made Inquiry for special size on configuration.
Brass Cheese head Screw
Brass Cheese head Screw
We are manufacturers suppliers of Brass Cheesehead Screw Threaded metric screws  to DIN 84 ISO 1207. We offer Brass Cheesehead Screw. Brass cheesehead Screws using Stainless Steel 304 316, Copper, Aluminum and Brass. These cheese head slotted screws are made on automatic cold heading and cold forging machines. Our range of Fasteners is wide and includes all types of machine screws, wood screws and nuts.
Threads:-
M3, M4, M5, M6, M8, M10, M12, M16, M20, 1/8,  5/32,  3/16,  ¼,  5/16,  3/8,  ½,  5/8,  ¾,  1,  BSP, UNEF, UNF, UNC, METRIC, BA.